Remember back in March when we gushed about our fantastic meal at State Bird Provisions? (And called out the Bauer for only giving them 2 1/2 stars?) It seems that Bon Appetit agreed with us, recently naming State Bird Provisions the best new restaurant in the country. Bravo! We actually revisited SBP a few weeks ago with the Hus-b and our dear friend, Dave, and were (again) thoroughly impressed. Especially memorable were the signature state bird with provisions and the local boquerones on a yeasted sesame pancake (pictured). Make your reservations yesterday.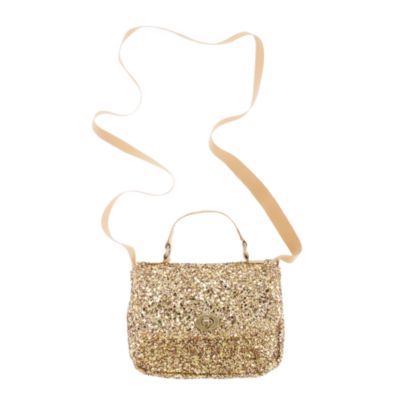 Two words: Glitter. Shop. Yet again, J.Crew has divined our deepest fashion wishes! YES, we know The Glitter Shop is *technically* for children, but the heart wants what the heart wants. Our major crush from this collection? The mini Edie glitter bag in gold (pictured), which would look adorbs slung across an easy silk trapeze top and skinny jeans for a concert or dancing with the girls if, you know, we actually still did those things instead of collapsing totally spent on the sofa after a day of toddler wrangling.
Speaking of collapsing after a long day with the Little Lady, our new favorite everyday white wine is the 2010 Eyrie Vineyards Estate Dundee Hills Pinot Gris (as recommended by K&L Wine Merchants, one of our favorite local wine purveyors for their excellent selection *and* pricing).
Today would have been Julia Child's 100th birthday, and we can't think of a better way to celebrate than cooking Julia's poulet roti. We are forever chasing roast chicken perfection, and as Julia wrote in Julia and Jacques Cooking at Home, "a well-roasted chicken is the mark of a fine cook". Indeed.
We adore when readers send along funny things, so thank you, Kendall and Erika, for introducing us to mckayla is not impressed. It's a lot like kim jong-il looking at things (another gem from Erika) except with more sass and fewer fur hats. Guess what, McKayla:
The Little Lady is not impressed either.
(Visited 1 times, 5 visits today)