Unbelievably, our Little Lady turns two next month. We could fill a zillion posts with incredulous musings about how quickly our baby has become a full-fledged big kid — She sings her ABC's! She speaks in complete sentences! She finally figured out how to jump! — but it's ever so much more fun to chat about her upcoming birthday party.

We promised the Hus-b we'd keep it simple this year, and we meant it, really we did. We'll be eight-and-a-half months pregnant and just plain physically unable to pull off an affair like last year's preppy pool party. No massive guest lists, no complicated menus, no fussy table linens or insane animal cracker tracking expeditions. We swore up and down that, this year, it would be evites, sheet cake and absolutely NO hydrangeas.
But then we saw these impossibly adorable forks on Sucre Shop's Instagram. Preppy! Neon! Dots! (The person writing their copy is clearly reading our mind.) An idea for a neon-hued second birthday party crystallized immediately and just like that, our promise was doomed. As we sat beside the Hus-b on the sofa last week, the open tabs on our Mac in full view, he figured it out, laughed, and said he loved that I was pathologically incapable of mailing it in. (Did we marry the right guy or what?)
So, for what it's worth, we blame the fork. Okay, and maybe some balloons. Geronimo Balloons. How could anyone resist these tasseled beauties? I've already made tassel prototypes in several different tissue papers and sourced perfectly round balloons from Sweet Lulu. (Note to self: making prototypes of anything for a child's birthday party is decidedly NOT low key.)
Unlike her first birthday party which was really about us celebrating the fact we'd kept her alive for an entire year, the Little Lady's second birthday party is truly a children's party that's about her having a marvelous time with her friends. In that spirit, we adore the idea of having neon art supplies strewn about the lunch table for mealtime doodling.
Then we found this brilliant tablescape which we plan to unabashedly copy in a neon palette. (PS, don't spend too much time on 100 Layer Cake-let unless you want to feel like the laziest, least-creative person ever to spawn. The awesomeness of the parties featured there makes our Pinterest guilt seem minor by comparison.)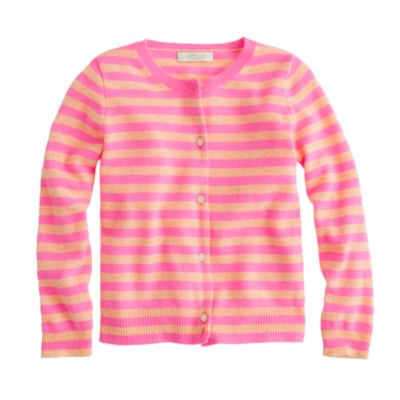 Finally, the perfect neon birthday cardigan. (Summer birthday in San Francisco = sweater weather.) AND it can be monogrammed. Of course.
Are we having fun yet? We can't wait to share the rest with all of you as the inspiration continues and the ideas become more than just rumpled tissue prototypes. We'd say the Hus-b has no idea what's coming, but yeah, he kind of does…
(Visited 1 times, 36 visits today)