Apparently Jordyn Wieber's case of poor loser-itis is contagious. At least McKayla Maroney finally has occasion to use that wicked side eye?
The Internet (and his mom) has spoken: Ryan Lochte is a slutty, pool pee-ing, bedazzled sneaker-wearing douchenozzle (And he sort of reminds us of Simon Rex.) Can't we just go back to talking about how smoking hot he is?
Apparently, peeing in the pool is a thing. Didn't their moms warn them about that special urine-triggered pool dye that tattles on dirty pool pee-ers?
The Duchess of Cambridge has been in rare form this Olympics, appearing relaxed and casual in a manner she rarely indulges. This does not, however, mean you can call her "Kate Middleton." (We're looking at you, Costas.)
Olympic race walking is basically a super-fast, sassy strut. I mean, REALLY?
We are two semifinal matches away from the all-USA women's beach volleyball final we've been hoping for. Fingers. Crossed.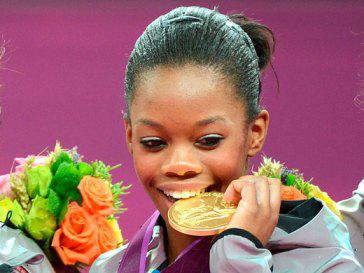 Gabby Douglas is a two-time Olympic gold medalist but apparently all people can talk about is her hair. This is where we'd usually interject our commentary about double standards, but haven't we been talking about Ryan Lochte's appearance (and objectifying the hell out of those abs) instead of his athletic achievements, too?